The Farm
A Sweet Find in the Heart of the Kingdom!
Maple Hill Farm - Barton, Vermont LLC is an independently owned, diversified 30-acre maple farm and Christmas tree farm located in the Northeast Kingdom. Husband and wife team Nick and Stephanie Lussier produce and handcraft pure Vermont maple syrup, maple cream, and their signature maple seasonings and jellies, as well as raw honey. 

 
Producers of Wood-Fired Vermont Maple Syrup
After purchasing 30-acres of farmland in Barton in 2012, owner Nick Lussier started putting his degree in agricultural sciences from  Vermont Technical College to work by planting Christmas trees. In 2015, he built a sugarhouse, tapped his grove of sugar maples on Maple Hill, and started producing wood-fired, small batch maple syrup. Nick's entrepreneurial spirit and his family's sugar making history in the Northeast Kingdom, partnered with his then fiancée Stephanie's marketing and social media expertise led the team to start producing a line of specialty maple products.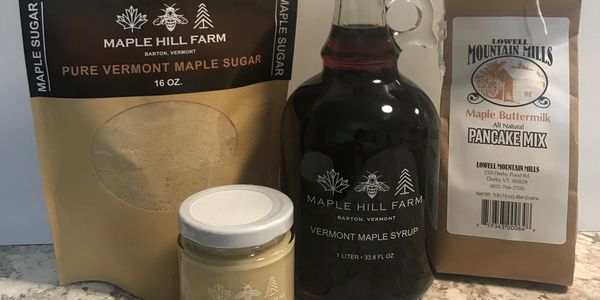 Choose from an Array of Maple Products & Honey
In addition to beautifully packaged maple syrup, Maple Hill Farm Barton Vermont offers maple cream, maple sugar, and a signature line of maple seasonings. In addition, Nick's father operates Maple Hill Apiaries, located near the maple farm, to produce the raw honey they sell.  
Balsam & Fraser Christmas Trees & Artisan Wreaths
Since 2014 the Christmas tree farm has grown from 2500 to over 11,000 Balsam and Fraser firs. These beautiful and vigorous trees thrive in the farm's rich soil and love northern Vermont's cold climate. With thousands of Christmas trees to choose from, varying in height from 4 to 9 feet tall, Maple Hill Farm Barton Vermont offers Choose & Cut Trees and handcrafted and artfully decorated Wreaths. Please visit those pages for availability and details.